#ONWEDNESDAYSWEWEARART.... Artist Lucy Sparrow
Hi Lovers!
It's Wednesday! and #OnWednesdaysWeWearArt! When My Friend Court and I started this year off we decided that we wanted art to be worn and expressed by all! So we decided to have separate art inspirations to encourage a broader participation and capture ALL art Forms and Inspiration through an outfit of choice. So far not bad, but we want to see you express yourself some more by joining the #OnWednesdaysWeWearArt and the link up below. Maybe you're inspired by a song, a movie, a book, or even a sketch of your own creation! Whatever it is dress up and show us your look!
I was inspired this week by Lucy Sparrow. Lucy Sparrow is a contemporary artist originating from Bath, England. She works at the intersection of contemporary art and craft setting the agenda for textiles within the urban art scene. She works mainly with felt and wool, creating over-sized soft versions of existing objects, according to her website. She's done shows with Bansky (a HUGH street artist) and her work has such a fun sense of humor!
I chose it because I liked the corner store theme and how much it reminded me of growing up and all the things that you could get at the cornerstone! In Her first solo exhibition Lucy Sparrow opened up a store that sold every a normal store would except everything was felt! It was extremely Interesting but what I realized she sold was nostalgia! See pictures of her things here. Seriously it's worth it you'll be amazed!
Wrapped up in Nostalgia I gathered some toys and went out and played in my sparkly shoes, neon leggings, purse holding my bubbles and toys, tulle skirt, and crop top shirt with the gems! It was a sweet day and a fun moment! I was so excited to find this beautiful wall art! We were traveling and found this wall randomly! Funny how wonderfully things work out at times!!!
I want to hear what's inspiring you and what you are wearing to express that inspiration in your life! If you are already playing along, Thank you! You keep us inspired!!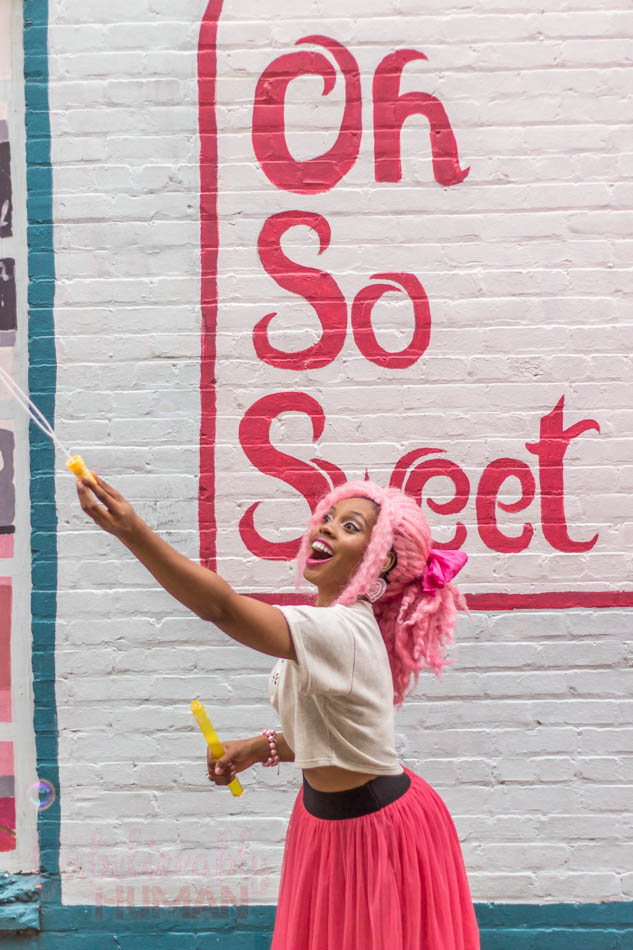 As Always You are Unbelievably Human, So Be Unbelievably YOU,
Liv
I am a love in action advocate and renaissance woman! If you haven't already check out my store! Our LOVE Boxes, and other cute accessories! You can here! Check out our Unbelievably Human YOUTUBE channel and let's be social!